[et_pb_section fb_built="1″ admin_label="section" _builder_version="3.0.74″ background_color="#ffffff" custom_padding="||0px|" custom_padding_tablet="||0px|" transparent_background="off" padding_mobile="on"][et_pb_row custom_padding="||0px|" padding_mobile="on" column_padding_mobile="on" parallax_method_1="off" admin_label="row" _builder_version="3.0.48″ background_size="initial" background_position="top_left" background_repeat="repeat"][et_pb_column type="4_4″ _builder_version="3.0.47″ column_padding_mobile="on" parallax="off" parallax_method="off"][et_pb_divider show_divider="off" height="110″ disabled_on="on|on|on" admin_label="Divider" _builder_version="3.2″ hide_on_mobile="on"]
[/et_pb_divider][et_pb_text disabled_on="on|on|on" admin_label="Text" _builder_version="3.0.87″ text_font="PT Sans|on|||" text_text_color="#bcbcbc" text_letter_spacing="2px" background_size="initial" background_position="top_left" background_repeat="repeat" text_orientation="center" module_alignment="center" custom_margin="||0px|" custom_padding="||0px|" use_border_color="off" border_color="#ffffff" border_style="solid" disabled="on"]SCA FARMS
[/et_pb_text][et_pb_text admin_label="Post Title" _builder_version="3.0.87″ text_font="PT Sans||||" text_text_color="#1d1d1d" text_font_size="72″ text_font_size_tablet="52″ text_font_size_last_edited="on|desktop" text_line_height="1.1em" background_size="initial" background_position="top_left" background_repeat="repeat" text_orientation="center" max_width="660px" module_alignment="center" custom_margin="18px||80px|" use_border_color="off" border_color="#ffffff" border_style="solid"]Why I started growing my own vegetables
[/et_pb_text][/et_pb_column][/et_pb_row][/et_pb_section][et_pb_section fb_built="1″ admin_label="Section" _builder_version="3.0.74″ background_color="#f7f7f4″ custom_padding="0px|||" custom_padding_tablet="0px|||" transparent_background="off" padding_mobile="on"][et_pb_row use_custom_width="on" custom_width_px="620px" custom_padding="0px|||" padding_mobile="on" column_padding_mobile="on" parallax_method_1="off" parallax_method_2="off" admin_label="row" _builder_version="3.0.48″ background_size="initial" background_position="top_left" background_repeat="repeat"][et_pb_column type="4_4″ _builder_version="3.0.47″ column_padding_mobile="on" parallax="off" parallax_method="off"][et_pb_image src="https://mljuscosrchy.i.optimole.com/2oZZbWI-B6SeYurE/w:auto/h:auto/q:mauto/http://scafarms.com/wp-content/uploads/2017/07/scafarms045_20170725-e1507913398562.jpg" show_bottom_space="off" align="center" admin_label="Author Image" _builder_version="3.0.87″ border_width_all="0px" border_color_all="#457a0c" border_style_all="solid" max_width="100px" custom_margin="-48px|||" use_border_color="on" border_color="#457a0c" border_style="solid" animation="off" sticky="on"]
[/et_pb_image][et_pb_text admin_label="Post Author" _builder_version="3.0.87″ text_font="PT Sans||||" text_text_color="#323232″ text_font_size="18″ background_size="initial" background_position="top_left" background_repeat="repeat" text_orientation="center" module_alignment="center" custom_margin="14px||0px|" use_border_color="off" border_color="#ffffff" border_style="solid"]Stefan Holt, SCA Farmer
[/et_pb_text][et_pb_text admin_label="Post Date" _builder_version="3.0.87″ text_font="PT Sans|on|||" text_text_color="#363636″ background_size="initial" background_position="top_left" background_repeat="repeat" text_orientation="center" module_alignment="center" custom_margin="0px|||" use_border_color="off" border_color="#ffffff" border_style="solid"]15 February 2018
[/et_pb_text][/et_pb_column][/et_pb_row][et_pb_row use_custom_width="on" custom_width_px="620px" custom_padding="0px|||" padding_mobile="on" column_padding_mobile="on" parallax_method_1="off" parallax_method_2="off" admin_label="row" _builder_version="3.0.48″ background_size="initial" background_position="top_left" background_repeat="repeat"][et_pb_column type="4_4″ _builder_version="3.0.47″ column_padding_mobile="on" parallax="off" parallax_method="off"][et_pb_text admin_label="Post Excerpt – Intro Paragraph" _builder_version="3.0.87″ text_font="PT Serif||||" text_text_color="#363636″ text_font_size="24″ text_font_size_last_edited="on|tablet" background_size="initial" background_position="top_left" background_repeat="repeat" max_width="620px" custom_margin="40px||0px|" use_border_color="off" border_color="#ffffff" border_style="solid"]There I was with almost three acres of empty pasture. The horses were gone. The riders were gone. All that was left was a beat up wooden fence, an electric line, and open pasture. Unsure of what my next move was going to be I decided to do what a lot of other people do when faced with a similar life situation. Google.
[/et_pb_text][/et_pb_column][/et_pb_row][et_pb_row custom_width_px="830px" use_custom_gutter="on" gutter_width="2″ custom_padding="50px|||" custom_padding_tablet="17px|||" padding_mobile="on" column_padding_mobile="on" custom_padding_last_edited="on|tablet" parallax_method_1="off" parallax_method_2="off" admin_label="Row" _builder_version="3.0.48″ background_size="initial" background_position="top_left" background_repeat="repeat"][et_pb_column type="3_4″ _builder_version="3.0.47″ column_padding_mobile="on" parallax="off" parallax_method="off"][et_pb_image src="https://mljuscosrchy.i.optimole.com/2oZZbWI-joKRJl4w/w:auto/h:auto/q:mauto/http://scafarms.com/wp-content/uploads/2017/01/just-pasture.jpg" show_bottom_space="off" align="center" force_fullwidth="on" admin_label="Header Image" _builder_version="3.0.87″ use_border_color="off" border_color="#ffffff" border_style="solid" animation="off" sticky="on"]
[/et_pb_image][/et_pb_column][et_pb_column type="1_4″ _builder_version="3.0.47″ column_padding_mobile="on" parallax="off" parallax_method="off"][et_pb_divider color="#aeaeac" admin_label="Divider" _builder_version="3.2″ custom_css_main_element="width:130px;" hide_on_mobile="off"]
[/et_pb_divider][et_pb_text admin_label="Header Title" _builder_version="3.0.87″ text_font="PT Serif||on||" text_text_color="#363636″ text_font_size="16″ text_line_height="1em" background_size="initial" background_position="top_left" background_repeat="repeat" max_width="130px" custom_margin="20px||0px|" use_border_color="off" border_color="#ffffff" border_style="solid"]Empty Pasture
[/et_pb_text][et_pb_text admin_label="Picture SubTitle Date Stamp" _builder_version="3.0.87″ text_font="PT Serif||on||" text_text_color="#363636″ text_font_size="12″ text_line_height="1.2em" background_size="initial" background_position="top_left" background_repeat="repeat" max_width="130px" custom_margin="6px|||" use_border_color="off" border_color="#ffffff" border_style="solid"]Photo taken Feb 2017
[/et_pb_text][/et_pb_column][/et_pb_row][et_pb_row use_custom_width="on" custom_width_px="620px" custom_padding="0px|||" padding_mobile="on" column_padding_mobile="on" parallax_method_1="off" parallax_method_2="off" admin_label="row" _builder_version="3.0.48″ background_size="initial" background_position="top_left" background_repeat="repeat"][et_pb_column type="4_4″ _builder_version="3.0.47″ column_padding_mobile="on" parallax="off" parallax_method="off"][et_pb_text admin_label="Main Post" _builder_version="3.0.87″ text_font="PT Serif||||" text_text_color="#363636″ text_font_size="20″ text_font_size_last_edited="on|tablet" text_line_height="1.5em" background_size="initial" background_position="top_left" background_repeat="repeat" max_width="620px" custom_margin="30px||0px|" use_border_color="off" border_color="#ffffff" border_style="solid"]
New Direction
Using google, I search for various strings that pertained to my situation. "What can you do on acre of land." Then I searched for "half and acre." And then, I got even smaller, knowing it was just me that would be doing the bulk of the work. "What can you do on a third of an acre." That's when I found this link:

and this guy: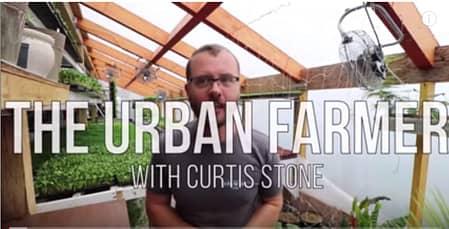 And a new direction for my life.
Market Garden Hope
So there I was watching this video and wondering…wanting to know if I indeed I had a passion for growing and producing food. Would it make sense? Could I do it? I had never planted and grown anything to eat before. What is salanova anyway? I just kept asking myself "what the hell am I going to do with this land?" A lot of other questions kept circling my brain but there I was, watching video after video of Curtis Stone, the urban farmer.
What he said made sense. It was simple. Hard work but simple. He uncomplicated the complicated. I thought about the land, my life, and the people that shaped me into the person that I am today and there seemed to be common thread.
My grandma loved to garden and to be outside in the yard until it was impossible due to physical limitations. My dad, to this day, loves to buy loads of potting soil, fertilizer, and compost to manage his ever increasing garden. A garden that stretches into the driveway and butts up against the swimming pool my parents have in the backyard.
Although neither of them actively engaged me nor my siblings in growing and planting. Was it still within me?  You know, the same dna. The same wiring that propels a farmer to spend the rest of his life growing things. Very tough questions considering the thoughts I had at the time. Could I grow my own vegetables? Could I really do it?
The more I watched Curtis Stone, the more I learned. The more I thought that it was possible. Here was a guy who started out leasing land. Working hard. Being honest about his situation. The hardships. The emotional struggle. And much much more. Could Curtis really help me? Could I plant and grow like him?  Little did he know. He help me with so much more than just vegetables and why growing your own food is not only a great thing but that you can make a living doing it. Curtis Stone led me to JM Fortier, Diego Footer, Conor Crickmore and Neversink Farms, The Lean Farmer Ben Hartman, Eliot Coleman, and so many more.

[/et_pb_text][/et_pb_column][/et_pb_row][et_pb_row custom_width_px="830px" use_custom_gutter="on" gutter_width="2″ custom_padding="50px|||" custom_padding_tablet="17px|||" padding_mobile="on" column_padding_mobile="on" custom_padding_last_edited="on|tablet" parallax_method_1="off" parallax_method_2="off" admin_label="Row" _builder_version="3.0.48″ background_size="initial" background_position="top_left" background_repeat="repeat"][et_pb_column type="3_4″ _builder_version="3.0.47″ column_padding_mobile="on" parallax="off" parallax_method="off"][et_pb_video src="https://youtu.be/adW3GCQGHug" admin_label="Video" _builder_version="3.0.47″][/et_pb_video][/et_pb_column][et_pb_column type="1_4″ _builder_version="3.0.47″ column_padding_mobile="on" parallax="off" parallax_method="off"][et_pb_divider color="#aeaeac" admin_label="Divider" _builder_version="3.2″ custom_css_main_element="width:130px;" hide_on_mobile="off"]
[/et_pb_divider][et_pb_text admin_label="Header Title" _builder_version="3.0.87″ text_font="PT Serif||on||" text_text_color="#363636″ text_font_size="16″ text_line_height="1em" background_size="initial" background_position="top_left" background_repeat="repeat" max_width="130px" custom_margin="20px||0px|" use_border_color="off" border_color="#ffffff" border_style="solid"]How I make $75,000 on a 1/3 acre Video
[/et_pb_text][et_pb_text admin_label="Picture SubTitle Date Stamp" _builder_version="3.0.87″ text_font="PT Serif||on||" text_text_color="#363636″ text_font_size="12″ text_line_height="1.2em" background_size="initial" background_position="top_left" background_repeat="repeat" max_width="130px" custom_margin="6px|||" use_border_color="off" border_color="#ffffff" border_style="solid"]The Urban Farmer September 2015
[/et_pb_text][/et_pb_column][/et_pb_row][et_pb_row use_custom_width="on" custom_width_px="620px" custom_padding="50px|||" padding_mobile="on" column_padding_mobile="on" parallax_method_1="off" admin_label="Row" _builder_version="3.0.48″ background_size="initial" background_position="top_left" background_repeat="repeat"][et_pb_column type="4_4″ _builder_version="3.0.47″ column_padding_mobile="on" parallax="off" parallax_method="off"][et_pb_divider color="#aeaeac" admin_label="Divider" _builder_version="3.2″ hide_on_mobile="off"]
[/et_pb_divider][et_pb_text admin_label="Post Main Quote" _builder_version="3.0.87″ text_font="PT Serif||||" text_text_color="#363636″ text_font_size="32″ text_font_size_last_edited="on|tablet" text_line_height="1.3em" background_size="initial" background_position="top_left" background_repeat="repeat" max_width="900px" custom_margin="16px||30px|" use_border_color="off" border_color="#ffffff" border_style="solid"]"So there I was watching this video and wondering…wanting to know if I indeed I had a passion for growing and producing food. Would it make sense? Could I do it?"
[/et_pb_text][et_pb_divider color="#aeaeac" admin_label="Divider" _builder_version="3.2″ hide_on_mobile="off"]
[/et_pb_divider][/et_pb_column][/et_pb_row][/et_pb_section][et_pb_section fb_built="1″ admin_label="Section" _builder_version="3.0.47″][et_pb_row use_custom_width="on" custom_width_px="780px" padding_mobile="off" column_padding_mobile="on" parallax_method_1="off" admin_label="Row" _builder_version="3.0.48″ background_size="initial" background_position="top_left" background_repeat="repeat"][et_pb_column type="4_4″ _builder_version="3.0.47″ column_padding_mobile="on" parallax="off" parallax_method="off"][et_pb_text admin_label="Text" _builder_version="3.0.87″ text_font="PT Serif||||" text_text_color="#363636″ text_font_size="36″ text_font_size_tablet="26″ text_font_size_last_edited="on|tablet" background_size="initial" background_position="top_left" background_repeat="repeat" text_orientation="center" module_alignment="center" custom_margin="||70px|" use_border_color="off" border_color="#ffffff" border_style="solid"]Want new articles before they get published?
Subscribe to our Awesome Newsletter.
[/et_pb_text][et_pb_contact_form captcha="off" admin_label="Contact Form" _builder_version="3.0.87″ border_radii="on|0px|0px|0px|0px" custom_button="on" button_text_color="#ffffff" button_bg_color="#02b875″ button_border_width="8″ button_border_color="#02b875″ button_border_radius="4″ button_use_icon="default" use_border_color="off" border_color="#ffffff" border_style="solid" input_border_radius="0″ button_letter_spacing_hover="0″][et_pb_contact_field field_id="E-mail Address" field_title="E-mail Address" field_background_color="rgba(0,0,0,0)" _builder_version="3.16″ form_field_font="PT Sans||||" form_field_text_color="#adadab" form_field_font_size="20″ form_field_font_size_tablet="20″ form_field_font_size_phone="20″ form_field_line_height="1.4em" form_field_line_height_tablet="1.4em" form_field_line_height_phone="1.4em" border_radii="on||||" border_width_all="1″ border_color_all="#adadab" border_style_all="solid" custom_css_main_element="height:64px;" use_border_color="on" border_color="#adadab" border_width="1″ border_style="solid" button_text_size__hover_enabled="off" button_one_text_size__hover_enabled="off" button_two_text_size__hover_enabled="off" button_text_color__hover_enabled="off" button_one_text_color__hover_enabled="off" button_two_text_color__hover_enabled="off" button_border_width__hover_enabled="off" button_one_border_width__hover_enabled="off" button_two_border_width__hover_enabled="off" button_border_color__hover_enabled="off" button_one_border_color__hover_enabled="off" button_two_border_color__hover_enabled="off" button_border_radius__hover_enabled="off" button_one_border_radius__hover_enabled="off" button_two_border_radius__hover_enabled="off" button_letter_spacing__hover_enabled="off" button_one_letter_spacing__hover_enabled="off" button_two_letter_spacing__hover_enabled="off" button_bg_color__hover_enabled="off" button_one_bg_color__hover_enabled="off" button_two_bg_color__hover_enabled="off"][/et_pb_contact_field][et_pb_contact_field field_id="First Name" field_title="First Name" field_background_color="rgba(0,0,0,0)" _builder_version="3.16″ form_field_font="PT Sans||||" form_field_text_color="#adadab" form_field_font_size="20″ form_field_font_size_tablet="20″ form_field_font_size_phone="20″ form_field_line_height="1.4em" form_field_line_height_tablet="1.4em" form_field_line_height_phone="1.4em" border_radii="on||||" border_width_all="1″ border_color_all="#adadab" border_style_all="solid" custom_css_main_element="height:64px;" use_border_color="on" border_color="#adadab" border_width="1″ border_style="solid" button_text_size__hover_enabled="off" button_one_text_size__hover_enabled="off" button_two_text_size__hover_enabled="off" button_text_color__hover_enabled="off" button_one_text_color__hover_enabled="off" button_two_text_color__hover_enabled="off" button_border_width__hover_enabled="off" button_one_border_width__hover_enabled="off" button_two_border_width__hover_enabled="off" button_border_color__hover_enabled="off" button_one_border_color__hover_enabled="off" button_two_border_color__hover_enabled="off" button_border_radius__hover_enabled="off" button_one_border_radius__hover_enabled="off" button_two_border_radius__hover_enabled="off" button_letter_spacing__hover_enabled="off" button_one_letter_spacing__hover_enabled="off" button_two_letter_spacing__hover_enabled="off" button_bg_color__hover_enabled="off" button_one_bg_color__hover_enabled="off" button_two_bg_color__hover_enabled="off"][/et_pb_contact_field][/et_pb_contact_form][/et_pb_column][/et_pb_row][/et_pb_section][et_pb_section fb_built="1″ admin_label="Section" _builder_version="3.0.74″ background_color="#222222″ custom_padding="0px|||" custom_padding_tablet="0px|||" transparent_background="off" padding_mobile="on"][et_pb_row make_fullwidth="on" use_custom_gutter="on" gutter_width="2″ custom_padding="40px|||" padding_mobile="on" column_padding_mobile="on" parallax_method_1="off" parallax_method_2="off" parallax_method_3="off" admin_label="Row" _builder_version="3.0.48″ background_size="initial" background_position="top_left" background_repeat="repeat"][et_pb_column type="1_3″ _builder_version="3.0.47″ column_padding_mobile="on" parallax="off" parallax_method="off"][et_pb_image src="https://mljuscosrchy.i.optimole.com/2oZZbWI-Q-rRXEKJ/w:auto/h:auto/q:mauto/http://scafarms.com/wp-content/uploads/2017/07/scafarms022_20170725.jpg" url="#" show_bottom_space="off" align="center" force_fullwidth="on" admin_label="Farmers Market Image" _builder_version="3.0.87″ use_border_color="off" border_color="#ffffff" border_style="solid" animation="off" sticky="on"]
[/et_pb_image][et_pb_text admin_label="Farmers Market Title" _builder_version="3.0.87″ text_font="PT Sans|on|||" text_text_color="#888888″ text_font_size="12″ text_letter_spacing="2px" text_line_height="1.2em" background_size="initial" background_position="top_left" background_repeat="repeat" text_orientation="center" module_alignment="center" custom_margin="30px|||" use_border_color="off" border_color="#ffffff" border_style="solid"]FARMERS' MARKET
[/et_pb_text][et_pb_text admin_label="Text" _builder_version="3.0.87″ text_font="PT Sans||||" text_text_color="#ffffff" text_font_size="24″ text_line_height="1.2em" background_size="initial" background_position="top_left" background_repeat="repeat" text_orientation="center" module_alignment="center" use_border_color="off" border_color="#ffffff" border_style="solid"]Farmers Market info
and lessons learned
[/et_pb_text][/et_pb_column][et_pb_column type="1_3″ _builder_version="3.0.47″ column_padding_mobile="on" parallax="off" parallax_method="off"][et_pb_image src="https://mljuscosrchy.i.optimole.com/2oZZbWI-8XlikPZq/w:auto/h:auto/q:mauto/http://scafarms.com/wp-content/uploads/2017/06/scafarms044_yyyymmdd-date.jpg" url="#" align="center" force_fullwidth="on" admin_label="Learn to Grow Image" _builder_version="3.0.87″ use_border_color="off" border_color="#ffffff" border_style="solid" animation="off" sticky="off"]
[/et_pb_image][et_pb_text admin_label="Learn to Grow Title" _builder_version="3.0.87″ text_font="PT Sans|on|||" text_text_color="#888888″ text_font_size="12″ text_letter_spacing="2px" text_line_height="1.2em" background_size="initial" background_position="top_left" background_repeat="repeat" text_orientation="center" module_alignment="center" custom_margin="30px|||" use_border_color="off" border_color="#ffffff" border_style="solid"]LEARN TO GROW
[/et_pb_text][et_pb_text admin_label="Text" _builder_version="3.0.87″ text_font="PT Sans||||" text_text_color="#ffffff" text_font_size="24″ text_line_height="1.2em" background_size="initial" background_position="top_left" background_repeat="repeat" text_orientation="center" module_alignment="center" use_border_color="off" border_color="#ffffff" border_style="solid"]Starting a new Garden?
Tips and Proven Techniques
[/et_pb_text][/et_pb_column][et_pb_column type="1_3″ _builder_version="3.0.47″ column_padding_mobile="on" parallax="off" parallax_method="off"][et_pb_image src="https://mljuscosrchy.i.optimole.com/2oZZbWI-JJ_gtb-B/w:auto/h:auto/q:mauto/http://scafarms.com/wp-content/uploads/2017/06/scafarms007_yyyymmdd-date.jpg" url="#" align="center" force_fullwidth="on" admin_label="Produce Pick of the Week Image" _builder_version="3.0.87″ use_border_color="off" border_color="#ffffff" border_style="solid" animation="off" sticky="off"]
[/et_pb_image][et_pb_text admin_label="Pick of the week title" _builder_version="3.0.87″ text_font="PT Sans|on|||" text_text_color="#888888″ text_font_size="12″ text_letter_spacing="2px" text_line_height="1.2em" background_size="initial" background_position="top_left" background_repeat="repeat" text_orientation="center" module_alignment="center" custom_margin="30px|||" use_border_color="off" border_color="#ffffff" border_style="solid"]PICK OF THE WEEK
[/et_pb_text][et_pb_text admin_label="Text" _builder_version="3.0.87″ text_font="PT Sans||||" text_text_color="#ffffff" text_font_size="24″ text_line_height="1.2em" background_size="initial" background_position="top_left" background_repeat="repeat" text_orientation="center" module_alignment="center" use_border_color="off" border_color="#ffffff" border_style="solid"]Healthy Produce Picks
and more!
[/et_pb_text][/et_pb_column][/et_pb_row][/et_pb_section]